Contact:
Ben Breuninger
Public Relations Coordinator
313.576.5196
bbreuninger@dso.org
Will continue to carry title of Phillip and Lauren Fisher Community Ambassador
---
Detroit, (September 16, 2016) – The Detroit Symphony Orchestra (DSO) is proud to announce that Michelle Merrill has been promoted to Associate Conductor ahead of her third season with the DSO.
"In promoting Michelle from Assistant to Associate Conductor of the DSO, we are acknowledging her incredible contribution to our orchestra," said Music Director Leonard Slatkin. "Whether she is engaging with children at our Young People's Family Concerts, leading pops and classical programs, hosting our Live from Orchestra Hall webcasts, or providing support to our guest conductors, all of her work is exemplary. The orchestra admires her greatly, and I am proud that she will continue to work alongside me—on the podium and in the community—as our Associate Conductor."
Merrill joined the DSO as Assistant Conductor in October 2014, replacing Teddy Abrams. She helps plan and conduct more 30 concerts per season, including the Educational Concert Series and its groundbreaking Live From Orchestra Hall: Classroom Edition webcasts, watched by tens of thousands of students locally, nationally, and internationally. She made her classical subscription series debut with the DSO in April 2016.
"I am thrilled to be extending my tenure with the DSO as its Associate Conductor," said Merrill. "Working with this world-renowned ensemble has provided me the opportunity for exponential growth as a conductor, and the past two years have been some of the most musically fulfilling in my career. It is an honor to be a member of the OneDSO family, and I am grateful to build upon our relationship as we continue to bring art, music, and culture to this fantastic city."
Merrill will continue to carry the title of Phillip and Lauren Fisher Community Ambassador, a signification created in 2015 by DSO Chairman Emeritus Phillip Fisher and his wife Lauren in collaboration with Merrill and the DSO. The role of the Community Ambassador is to serve the community, reinvent relationships, inspire youth, and build for the future, demonstrating the power of music to transform lives and ignite potential.
"Lauren and I would like to congratulate Michelle on this well-deserved promotion," said Phillip. "When we think of Michelle, we think of her connections to people—to her musical colleagues of course, but also to all the members of our OneDSO family, and particularly the children and young people of our city. She's been an excellent role model for the next generation and a fantastic addition to the orchestra."
On Sep. 23-25, Merrill will lead the DSO for four free community concerts sponsored by the DTE Energy Foundation. Her first classical subscription series concert of the 2016-2017 Season is Gershwin Rarities with pianist Sara Davis Buechner, Feb. 17 and 18, 2017.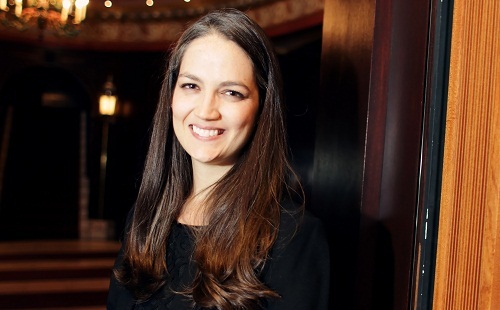 Click to view a hi-res version of this image.
About Michelle Merrill
A passionate and dynamic artist, Michelle Merrill was recently named as one of Hour Detroit magazine's 3 Cultural Organization Leaders to Watch, and made her classical subscription debut with the DSO in April 2016. She is also a recipient of a 2016 Solti Foundation U.S. Career Assistance Award.
Recent and upcoming engagements include the Jacksonville Symphony Orchestra, Toledo Symphony, Louisiana Philharmonic, Symphoria (Syracuse), Sacramento Philharmonic & Opera, Boise Philharmonic, Orlando Philharmonic, New Music Detroit, and the Northeastern Pennsylvania Philharmonic, where she formerly served as Assistant Conductor before coming to Detroit. In addition to planning and conducting concerts, Merrill gives pre-concert lectures, leads adult music education seminars, engages with students in and around Metro Detroit, speaks on behalf of the DSO throughout the community, and participates in hosting Live from Orchestra Hall webcasts.
In 2013 Merrill was awarded the prestigious Ansbacher Conducting Fellowship by members of the Vienna Philharmonic and the American Austrian Foundation, which enabled her to be in residence at the world-renowned Salzburg Festival. In March of 2014, she stepped in on short notice with the Meadows Symphony Orchestra for their performance of Shostakovich's Symphony No. 4, which music critic Scott Cantrell of the Dallas Morning News described as "stunning" and later placed on his list of Top Ten Classical Performances of 2014.
Born in Dallas, TX, Merrill studied conducting with Dr. Paul C. Phillips at Southern Methodist University's Meadows School of the Arts, where she holds a Master of Music Degree in conducting and a Bachelor of Music in performance. Apart from music, she loves cooking, running, hiking, and spending time outdoors with her husband, Steve Merrill, Principal Percussionist of the Jacksonville Symphony.
About the DSO
Hailed by The New York Times as "cutting edge," the internationally acclaimed Detroit Symphony Orchestra is known for trailblazing performances, visionary maestros, collaborations with the world's foremost musical artists, and an ardent commitment to Detroit. As a community-supported orchestra, generous giving by individuals and institutions at all levels drives the continued success and growth of the institution. Esteemed conductor Leonard Slatkin, called "America's Music Director" by the Los Angeles Times, became the DSO's 12th Music Director, endowed by the Kresge Foundation, in 2008. Acclaimed conductor, arranger, and trumpeter Jeff Tyzik serves as Principal Pops Conductor while celebrated trumpeter and composer Terence Blanchard holds the Fred A. and Barbara M. Erb Jazz Creative Director Chair. With growing attendance and unwavering philanthropic support from the Detroit community, the DSO's performance schedule includes Classical, Pops, Jazz, Young People's, and Neighborhood concerts, and collaborations with high profile artists from Steven Spielberg to Kid Rock. A commitment to broadcast innovation began in 1922 when the DSO became the first orchestra in the world to present a radio broadcast and continues today with the free Live from Orchestra Hall webcast series, which now reaches tens of thousands of children with the new Classroom Edition expansion. Making its home at historic Orchestra Hall within the Max M. and Marjorie S. Fisher Music Center, one of America's most acoustically perfect concert halls, the DSO actively pursues a mission to embrace and inspire individuals, families, and communities through unsurpassed musical experiences.
###